Art Therapy is about looking inside a stone for the mystery of one's own interior life

Sculpture can not be taught by books or by spoken words. It must be experienced by the artist. The hands must be trained by practice; the mind by constant acquisition of knowledge and the heart by its undefeated faith and desire to overcome all obstacles. For sculpture is a thorny road beset by barriers, defeats and disappointments.
Direct carving has been my "ordinary habit" in the words of Ann Cvetkovich, "a way to build the spiritual warrior self". It is a spiritual journey, a natural process that brings balance to my mind and body. T. S. Eliott writes in his article on Tradition and the individual talent that
the more perfect the artist, the more completely separate in him will be the man who suffers and the mind which creates; the more perfectly will the mind digest and transmute the passions which are its material.
I can't say whether Eliott is correct. What I know is that I haven't separated in me the person who suffers and the mind which creates. My own subjective taste brings me closer to Venus of Willendorf with rounded buttocks and breasts than to the exquisitely shaved Michelangelo's David. Closer to us, 20th-Century artists such as Brancusi, Giacometti, and Modigliani are guiding my own artistic quest.
I found a small reproduction of the Venus of Willendorf in a Goodwill store one day. Since I mentioned my fascination for the figure, no surprise here, I jumped on it. "What do you think about the Venus of Willendorf ?" I asked. " Do you like it or do you think it is grotesque?". "Both", said the person I was addressing myself to. "So why is it that I think it is beautiful?" I asked. Without a word, my interlocutor with a slight pouting face simply rolled his eyes.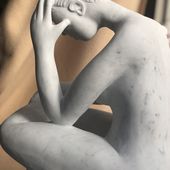 Artistic Research - Consciousness and the Universe
Let's be clear: creative artistic thinking is neither a creative technique nor about painting pictures or making sculptures. This is a preconception we must get rid of. Creativity is not a prisoner
https://www.consciousnessanduniverse.com/2022/01/artistic-research.html