As we live our lives, we hold on tight to the invisible thread of our thoughts until our steps will lead us to the eerie scene of a suspension bridge in the clouds to the other side. Unafraid of the threat that could pose a fierce lion wandering outside our comfort zone, a matter of urgency resonates inside us. And so the story goes…
I am a seeker. The urge to know has always been a motor in my life. The whys keep me going. My quest started as a teen with Copernicus and Laozi 老子and, later on, took me to the world of Buddhist scriptures*. My first blog in French brought me on a path I did not expect and compelled me to dive into this new endeavor.
This blog has grown into a multidisciplinary study of the relationship between the Universe and Consciousness. How do we perceive the link between the Universe in which we live and the Consciousness that we share? What exactly binds the two together?
I am undertaking a long work of understanding and incorporating an infinite number of points of view on the nature of the bond between the Universe and Consciousness. It is meant to initiate a dialogue with sensitive beings and creative souls, and will continue to unfold like an "imaginal puzzle". During 2020, I was more prolific, writing four or even five posts each month. I wish to slow down and limit the number of posts to one per month. I have come to the realization that I need more time to better synthesize my thoughts.
After more than three years and 90 posts, I will continue to walk very slowly and follow the winding road I choose. I still hear a different drummer, and express more confidence about the way I feel. I believe in the emotion of time that stirs the soul of the Universe. I intuitively feel that time comes first. The Universe reveals itself by expressing itself. It knows itself through every bit of experience.
To the best of my ability, I will continue to strike the right balance between science, philosophy, and poetry.
Catherine Toulsaly
February 2022
*Published translations:
Gao Yang, Le Dévouement du Marchand. Paris: You Feng, 2008
Huineng, Le Sûtra de la plate-forme. Paris: You Feng, 1992
Zhang Chengzhi, Les rivières du Nord. Beijing: Collection Panda, 1992
Zong Pu, "Haricots rouges" and "Le sacrifice du cœur". Littérature chinoise, vol.3, 1992.
Liang Xiaosheng, "Père" in Une terre fabuleuse. Beijing: Collection Panda, 1991. Pp. 57-111.
Zong Pu, "Haricots rouges" and "Le sacrifice du coeur". Littérature chinoise, Vol. 3, 1992.
Su Ye, "Impérissables souvenirs du sud du Yangtsé", "Un clair de lune sur le torrent Suo", and "Ma chanson courte sur le banc de sable". Littérature chinoise, Vol. 2, 1991.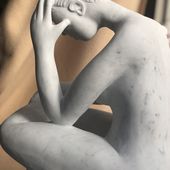 Artistic Research - Consciousness and the Universe
Let's be clear: creative artistic thinking is neither a creative technique nor about painting pictures or making sculptures. This is a preconception we must get rid of. Creativity is not a prisoner
https://www.consciousnessanduniverse.com/2022/01/artistic-research.html